The Best Blog Planner Toolkit to Make Your Blog Successful
The Best Blog Planner Toolkit to Make Your Blog Successful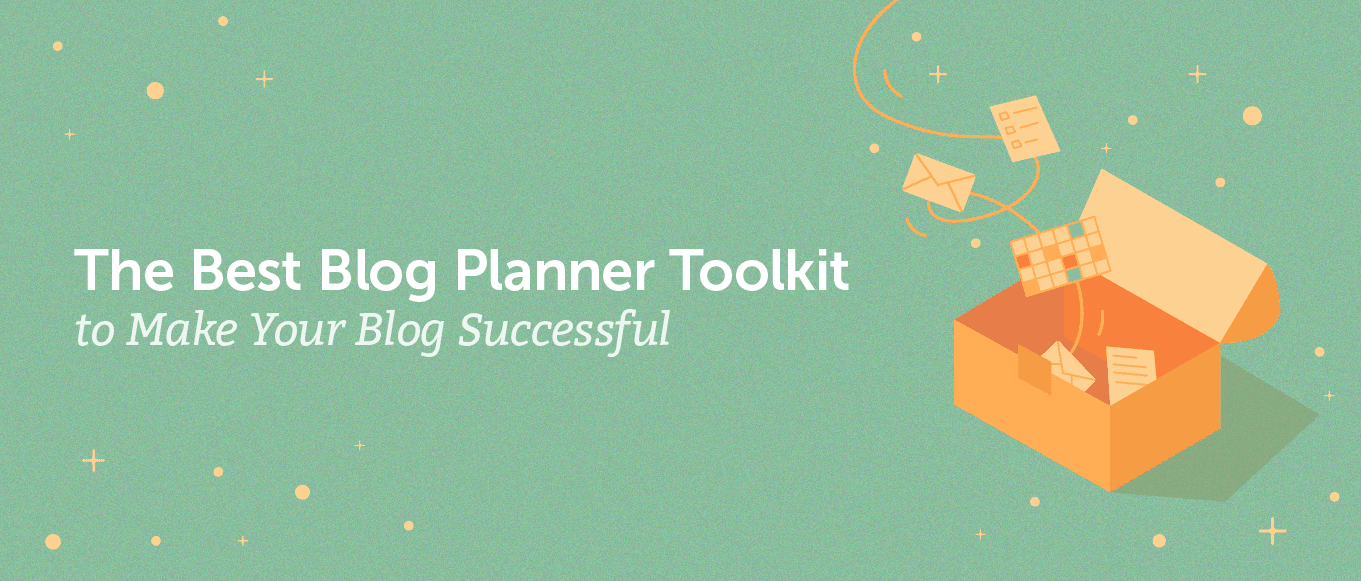 Want consistency and quality on your blog? Feeling like you can only choose one of those?
You're not alone. Between your clients, admin work, emails, keeping up to date with your industry, and taking actual breaks, your time and energy to regularly maintain a consistent, quality blog are scarce.
The solution? A blog planner that works for you. You need a blog planner that will make creating content easier and a lot more fun, and that's exactly what this post will take you through.
By the end of this guide, you'll know how to:
Brainstorm endless blog post ideas that your audience cares about and makes them keep coming back.
Use a blog calendar, so you can save time, achieve more, and navigate your content easily.
Streamline and automate your content promotion, so your blog posts can make the maximum impact.
Ready for an efficient blog planner? Let's get started.
First, Download Your Very Own Blog Planner Toolkit
You're maybe just now realizing how much work goes into creating the perfect blog post. Well, we've got you covered. If you download our blog planner toolkit, we guarantee you'll find the light that's at the end of your dark, confusing, blogging tunnel.
100 Blog Title Templates: These templates offer title options where all you have to do is fill in the blanks.
105 Blog Promotion Ideas: Use this massive list of ideas to find creative ways to promote your blog.
150 Bonus Blog Ideas: Writer's block? Check out all of these content ideas, so you don't have to stare at a blank screen anymore.
Best Time to Publish Blog Posts: When is the best time to publish your ready-to-read blog post? We've done all the research for you.
Blog Post Writing Template: If writing a blog post isn't exactly your forte (or you need help organizing your content when writing), use this template to get you started on the right path.
Blog Calendar Template: If you're not sure when you want to publish your blog posts, use this calendar to organize your schedule and publish at the best times.
Best Blog Length Report: What does your blog post length say about its potential for success, and does it really matter anyway? Find out with this report.
Three Versions of Blog Planners
Here are the three main versions of a blog planner you can utilize.
1. Paper Planner
A paper planner can function in a couple of ways:
A printed wall calendar with blog posts added to their corresponding publish dates that you write by hand or mark with sticky notes.
A list of blog post ideas with publishing dates you write next to each idea.
You can also write out when you'll research, write, edit, and promote your blog posts to a calendar, so your entire workflow is mapped out.
This blog planner type is great for a big-picture overview of what's going on with your content.
The downside is that any changes to a topic or its publish date requires manual fixing, and if you've added other parts of your workflow to it, you need to change all of them. These blog planners also aren't portable.
2. Notebook-Style Day Planner
If you like the idea of a paper planner, but want to be able to take it with you, a notebook-style day planner is a better option.
Many day planners have a page with a monthly overview, which is ideal for an overview of blog posts you need to work on next. Then, you can use that overview to build your day-to-day schedule.
This type of planner gives you the benefit of a big picture overview, a daily plan, and portability. Of course, as with anything else done on paper, changing and updating things can take a while.
3. Software for Blog Planning
Blog planning software can be divided into two main options:
A generic tool, like Google Sheets or Microsoft Excel, that you need to tailor to your blog planning needs.
A specialized tool, like CoSchedule's Blog Calendar, lets you plan and publish your content from a single platform.
The software option is a portable, actionable, and practical way to plan and publish your content, so you can grow your blog consistently.
It lets you work faster. You can easily build a schedule not just for your blog posts, but also the social messages that support their promotion, and quickly move between the two.